The change in the air is really here. And the drop in temperature means more steps and more energy to layer up. Preparation and organization are the only way through the winter workweeks and events with ease. Here are my five tips for the most flattering looks that will also keep you warm and get you out the door in a flash.
1. Thin underlayers. Brands like Hot Chillys do a great job of keeping you slim while keeping you warm. Their flattened seams and body hugging fabric don't add on inches. And they use anti-odor treatment on the fabric. Layers underneath that keep you warm but wick away moisture are key. I love 2xist for this also. And then sometimes, just a basic cashmere tank is just the piece you need to insulate your core under a button down.
2. Invest in cashmere and wool. Polar fleece and down do the job but bulky is not sexy. Cashmere and cashmere blend coats, sweaters, dresses, pants, tees, tanks, and leggings are super warm without the extra padding. What's more perfect than a sleek dress and coat that can keep you as warm as 3-4 layers? Layering these fabrics on top also allows you to wear just a down vest sometimes, which is especially great for free movement, like jumping in and out of a car. And I hope you have on hand some staple wool blend suits and separates for those freezing commutes to the office. I love cashmere blend accessories too. For the gentleman, I'm a big fan of blacksocks.com's cashmere/silk socks for suit days. They offer a "sockscription" as well if he always needs these. For casual boots, go Smartwool. Sites like Gilt.com are great for inexpensive cashmere hats and scarves for everyone. I have amassed a collection of cashmere lined leather gloves from sample sales over the years. I found long Portolano gloves similar to the ones pictured below and this style goes beautifully with capes and 3/4 sleeve coats, particularly fur or fur trimmed. Portolano has great yearly sample sales. If you see the cashmere lined ones reduced, snatch them up! While you're at it, buy silk lined ones for fall.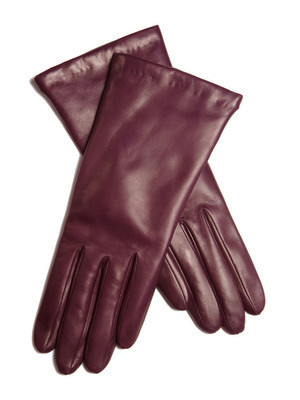 3. Replace staple pieces that no longer make you feel your brightest. That sweater you used to love suddenly feels dated. The joy is gone from those boots from last winter. Many of us may have seen or were people in tees a week ago in some parts of the country. But now, the current climate transition is an opportunity for upgrade. So when you purge lackluster clothes that carry old energy and are wasting space in your closet, replace them only with things you feel amazing in. Get those tops, cardigans, and zip up hoodies (yes, in cashmere) in your best colors and patterns. Add colorful or patterned accessories to your grey, black, brown, and navy outerwear when you can. Find body conscious down coats and jackets with pulled in waists and interesting collars to slip on over work clothes or when you want to wear relatively little underneath. Moncler is a sixty year old company named after a mountain village in France. Can't argue with that or their duvet neuf. Go for it. Look for light weight, "featherlight", or "ultralight" down from brands like Cole Haan, Canada Goose, Hunter, or Land's End for quality and warmth. Don't skimp on spending money now to have down feathers sticking out of your outer shell or a smelly jacket later. Invest wisely. The red Land's End coat featured here comes in Plus, Tall, and Petite sizes. Click and hover to see product details. If on mobile, clockwise: Cole Haan, Land's End, Burberry, Canada Goose.
4. Make sure cold weather gear is categorized and accessible. You need those layers folded in stacks on shelves or in drawers where you can grab them. You also need those summer pieces away somewhere, but not where they're too hard to reach for island getaway packing. Plan for what you wish for!
5. Take your vitamins! Iron or B-12 deficiencies can make you feel cold. With proper levels, you won't need as much clothing.
What are some of your favorite winter brands or tricks to stay warm? Hot toddies? Favorite hot chocolate spots? Do let us know in the comments below!
Sharing is caring,
Aisha Claire